Breakout Sessions at 2021 BIF Symposium Offer Technical, Research Updates

note: pdf files open in new window/tab
6/03/2021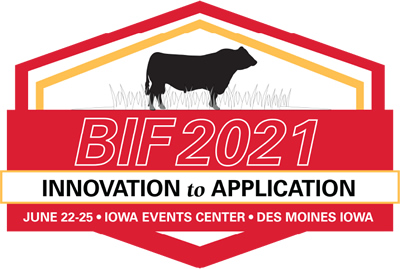 DES MOINES, Iowa – The afternoon breakout sessions at the 2021 Beef Improvement Federation Research Symposium and Convention will provide attendees with the latest looks at technological advancements and research results. Held during the afternoons of June 23 and 24, both sessions have three tracks with four presentations.
"These technical breakouts provide thought-provoking afternoons with individual sessions tailored to specific interests of producers or researchers," said Beth Reynolds, Iowa State University extension program specialist and a member of the planning committee. "You'll have the opportunity to learn about the most recent ways to implement technologies in your operation and hear about new research in the genetics field."
The Wednesday afternoon breakout topics are: Advancements in Genomics and Genetic Prediction, Advancements in Producer Applications and Advancements in Efficiency and Adaptability. Thursday afternoon's session topics are: Advancements in Emerging Techology, Advancements in End Product Improvement, and Advancements in Selection Decisions.
The 2021 BIF Research Symposium and Convention will be held June 22-25 at the Iowa Events Center in Des Moines. All schedule and registration information is available on the event website.
-30-

The Iowa Beef Center at Iowa State University was established in 1996 with the goal of supporting the growth and vitality of the state's beef cattle industry. It comprises faculty and staff from Iowa State University Extension and Outreach, College of Agriculture and Life Sciences and College of Veterinary Medicine, and works to develop and deliver the latest research-based information regarding the beef cattle industry. For more information about IBC, visit www.iowabeefcenter.org.
Contact:
Beth Reynolds, ISU Extension and Outreach beef program specialist, 515-294-9881, bethr@iastate.edu
Writer:
Sherry Hoyer, Iowa Beef Center, 515-294-4496, shoyer@iastate.edu