Tours at 2021 BIF Symposium Will Showcase Iowa Beef Industry

note: pdf files open in new window/tab
5/28/2021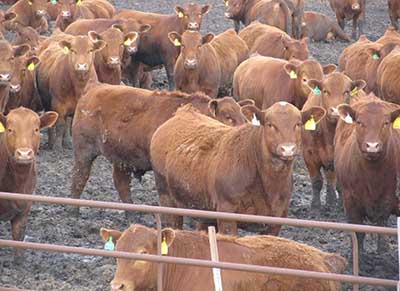 DES MOINES, Iowa – The two optional tours of the 2021 Beef Improvement Federation Research Symposium and Convention will provide attendees a firsthand look at unique aspects of Iowa's beef industry. Set for Friday, June 25, both the West and East tours will leave at 7:30 a.m. from the Iowa Events Center and return at 6 p.m.
If you choose to "Go West" you'll travel from Hy-Vee, Inc. in Des Moines to Wilkerson Farms near Linden, Wiese & Sons Herefords at Manning, and Lauritsen Cattle Company at Exira. Iowa State University extension beef specialist Beth Doran was instrumental in developing this tour and said it provides a wide ranging perspective on beef cattle as an integral part of the state's economy.
"The goal of the Western Iowa tour is to showcase the Iowa's cattle industry from conception to consumption!" she said. "You'll be able to visit directly with producers on the cutting edge of genetic engineering, nationally recognized Hereford seedstock and the latest technology in custom cattle feeding. Also, you can question HyVee meat managers and discover why HyVee was ranked one of America's top five favorite grocery stores and their key to customer success."
The Eastern Iowa Tour starts in Grinnell to visit a TransOva Satellite operation, Olympic Genetics Center. The remainder of the day will be spent at the historic Amana Colonies, where one of the largest contiguous Iowa farms is located. The tour will feature an anaerobic digester, cow-calf and feedlot operation, and time to explore traditional, German-influenced shops and restaurants.
Both tours have limited capacity. Fee is $45 and lunch is included. See more details on both tours on the symposium website tour page.
The 2021 BIF Research Symposium and Convention will be held June 22-25 at the Iowa Events Center in Des Moines. All schedule and registration information is available on the event website.
-30-

The Iowa Beef Center at Iowa State University was established in 1996 with the goal of supporting the growth and vitality of the state's beef cattle industry. It comprises faculty and staff from Iowa State University Extension and Outreach, College of Agriculture and Life Sciences and College of Veterinary Medicine, and works to develop and deliver the latest research-based information regarding the beef cattle industry. For more information about IBC, visit www.iowabeefcenter.org.
Contact:
Beth Reynolds, ISU Extension and Outreach beef program specialist, 515-294-9881, bethr@iastate.edu
Writer:
Sherry Hoyer, Iowa Beef Center, 515-294-4496, shoyer@iastate.edu