DMACC and Iowa State University Extension Set Pasture Walk in Dallas County

note: pdf files open in new window/tab
10/21/2021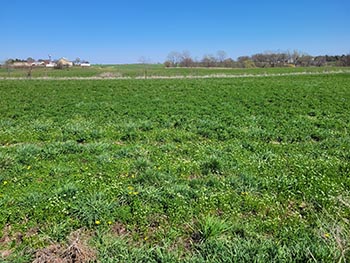 ADEL, Iowa – Area producers and others interested in learning more about pasture management, forage production and cattle grazing are invited to a unique opportunity early next month. Iowa State University extension beef specialist Chris Clark said they're cooperating with Des Moines Area Community College to hold a pasture walk at the DMACC Dallas County farm on Nov. 8.
Clark said representatives from both organizations will be at the event to provide a variety of information.
"DMACC farm managers and agriculture instructors will provide an overview of the farm operation and their pasture management program," he said. "ISU Extension specialists will talk about pasture evaluation and planning for successful pasture improvements, using plans for improvements at the DMACC Dallas County farm as examples for others to build upon."
Clark said he is excited for the opportunity to cooperate with DMACC and provide this educational program.
"From pasture evaluation to soil fertility and weed control, I think there is potential for some really good discussion at this site," he said. "It can be quite valuable to get out in the field and look at some real-world scenarios."
The program will begin at 3:30 p.m. and will likely run through 5:30 p.m. at the farm, located approximately three miles north of Adel at 25747 N Ave. (U.S. Highway 169), Adel. This event is free and open to the public, with no preregistration necessary.
For more information contact Iowa State extension field agronomist Meaghan Anderson at mjanders@iastate.edu or 319-331-0058. The program flyer also has information.
-30-

The Iowa Beef Center at Iowa State University was established in 1996 with the goal of supporting the growth and vitality of the state's beef cattle industry. It comprises faculty and staff from Iowa State University Extension and Outreach, College of Agriculture and Life Sciences and College of Veterinary Medicine, and works to develop and deliver the latest research-based information regarding the beef cattle industry. For more information about IBC, visit www.iowabeefcenter.org.
Contact:
Chris Clark, Iowa State University extension beef specialist, 712-250-0070, caclark@iastate.edu