Forage Field Days Feature Forage Rotations and Research Results

note: pdf files open in new window/tab
7/21/2021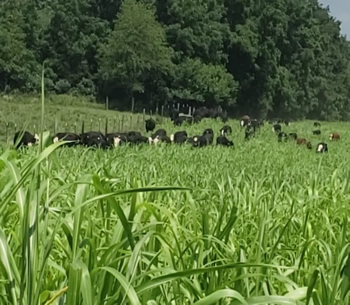 AMES, Iowa — Incorporating a summer annual into the crop rotation provides much needed summer slump grazing while utilizing minimal row crop acres. A winter annual/summer annual forage rotation disrupts the standard corn-soybean rotation, which provides several benefits, according to Iowa State University extension beef specialist Denise Schwab.
"This rotation provides agronomic benefits such as reduced pest pressure, ability to rotate herbicides, and helps scavenge soil nutrients, and it provides whole farm enterprise flexibility," she said. "It also provides feed during three critical seasons when perennial pasture production is limited."
Schwab said several forage field days are planned that will demonstrate annual forage rotations and share the results of ISU research plots. There's no cost to attend and you don't need to preregister for any of the events.
Three on-farm field days feature producers utilizing annual forage rotation, and two field days at Iowa State University research and demonstration farms will feature annual forage plots as a part of the annual research farm field days.
On-farm field days in northeast Iowa are as follows.
Wednesday, July 28, 1 p.m., Prairie Creek Seed location, 21995 Fillmore Road Cascade. Karl Dallefeld from Prairie Creek Seed will discuss annual forage traits and species selection, and Schwab will discuss utilizing annual forages in beef operations and the economics of an annual forage system. Attendees will then tour the Nathan Manternach farm at 23476 Hwy 136, Cascade. Manternach has utilized both winter and summer annual forages in his grazing rotation for several years.
Thursday, Sept 2, 6 p.m. Nathan Goedken's farm at 1902 310th Ave., Dyersville. Goedken baled winter annual forages in June and then drilled a mix of summer annuals. He plans to graze with fall calving cows and stockpile late season growth for winter grazing.
Tuesday, Sept. 7, 5:30 p.m. Jason Wells farm, 14658 252nd St, Milton. Wells grazes a mix of summer annuals.
ISU demonstration and research farm field days are as follows.
Tuesday, Aug. 3, 3:30 p.m., McNay Research Farm, 45249 170th Avenue, Chariton. The annual summer field day includes dinner, and also features other beef cattle research at the farm. This event highlights the annual forage plots located at the farm that include five summer annuals, and also looks at the impact of nitrogen on forage production. This is following five winter annual forages with two nitrogen treatments as well.
Friday, Aug. 27, 1 p.m., Northeast Research Farm, 3321 290th Street, Nashua. One of the stops will highlight the annual forage plots at this farm, which includes four summer annuals with two nitrogen treatments following winter annual forages.
Plan to attend one or more of these field days to learn about the selection, production and economics of an annual forage rotation to determine whether it might work for your operation. For more information, contact Schwab at dschwab@iastate.edu or 319-721-6343.
-30-

The Iowa Beef Center at Iowa State University was established in 1996 with the goal of supporting the growth and vitality of the state's beef cattle industry. It comprises faculty and staff from Iowa State University Extension and Outreach, College of Agriculture and Life Sciences and College of Veterinary Medicine, and works to develop and deliver the latest research-based information regarding the beef cattle industry. For more information about IBC, visit www.iowabeefcenter.org.
Contact:
Denise Schwab, Iowa State University Extension beef specialist, 319-721-9624, dschwab@iastate.edu