Pasture and Grazing Management Series Begins June 12 in Marshall County

note: pdf files open in new window/tab
6/4/2021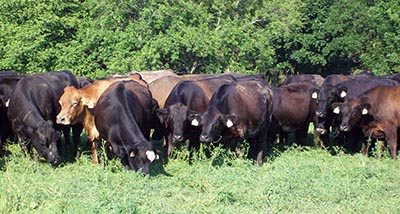 MARSHALLTOWN, Iowa ­— Livestock producers who want to learn about optimizing forage and livestock production while conserving natural resources are invited to attend the Pasture and Grazing Management series at the Iowa State University Marshall County Extension Office this summer and fall. Iowa State University Extension and Outreach beef specialist Chris Clark said the series has been a popular management course for producers over the years.
"This five-part series will cover numerous concepts relevant to all producers of grass-based livestock. Topics will include managing grass growth and plant diversity, watering alternatives for grazing systems, weed and brush control, and optimizing winter grazing," Clark said."We have a solid base curriculum and can tailor the program a bit to meet interests and needs of participants. I hope to have several guest speakers and most sessions will include some sort of pasture walk."
Clark will lead the program with contributions from several Iowa State University Extension specialists and industry representatives.
"The series was developed to deliver timely materials and hands-on learning for producers interested in improving their forage management systems on their farms," Clark said. "Producers will learn about improving productivity and be able to try their hand at pasture condition scoring and forage assessment."
Individual workshops are scheduled for June 16, July 7, July 28, Aug. 4 and Oct. 27 at the Marshall County Extension Office, 2608 S. 2nd St Suite E, Marshalltown, IA. All begin at 5 p.m. and are expected to conclude by 9 p.m.
The registration fee of $50 includes all five meetings, meals and resource guide. People are urged to register for and attend all sessions, but can attend individual sessions for $15 each. That fee includes the meeting, meal and a resource guide.
Those interested are asked to preregister by June 11 by calling the Marshall County Extension Office at 641-752-1551 or by contacting Clark directly at 712-250-0070 or by email at caclark@iastate.edu.  
-30-

The Iowa Beef Center at Iowa State University was established in 1996 with the goal of supporting the growth and vitality of the state's beef cattle industry. It comprises faculty and staff from Iowa State University Extension and Outreach, College of Agriculture and Life Sciences and College of Veterinary Medicine, and works to develop and deliver the latest research-based information regarding the beef cattle industry. For more information about IBC, visit www.iowabeefcenter.org.
Contact:
Chris Clark, DVM, Iowa State University Extension beef specialist, 712-250-0070, caclark@iastate.edu