Iowa Beef Center and Partners to Present Silage for Beef Cattle Conference

note: pdf files open in new window/tab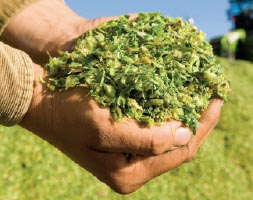 5/9/18
AMES, Iowa – Building on the success of a similar conference in 2016, Iowa Beef Center is partnering with University of Nebraska—Lincoln and Lallemand Animal Nutrition to offer a one-day conference focused on one of the largest components of many beef producers' bottom lines: silage. Iowa State feedlot specialist and IBC director Dan Loy said organizers of the Thursday, June 14, event want as many people as possible to access the information. That's why the program, to be held at the Eastern Nebraska Research and Extension Center near Mead, NE also will be livestreamed for those unable to attend in person.
Galen Erickson, professor and beef feedlot extension specialist at the University of Nebraska—Lincoln, said corn silage can be economical when included in growing and finishing rations for beef cattle.
"There are many important variables including variety of corn, ensiling, pricing and feedout management. When feed is one of the largest costs, it's important we consider all these angles," he said.
Bob Charley, forage products manager at Lallemand Animal Nutrition, said his team is excited to again work with Iowa State and University of Nebraska to bring the conference to the beef industry.
"We heard a lot of positive feedback after the 2016 conference and have developed an excellent lineup of speakers for this year's program," he said. "After the conference, everyone attending should be able to improve silage quality, limit losses and better formulate rations. There's no operation that couldn't benefit from those improvements."
Loy said the event is free to all who preregister by the June 11 deadline, regardless of whether they will attend the program on-site in Mead or watch the livestream through the Iowa Beef Center website. Producers, nutrition consultants and extension personnel who work with beef cattle are encouraged to attend. The conference flyer has agenda information, address of the live event location and contacts for more information.
Attendees will hear 10 presentations from leading experts in silage production and management.
Key steps to improve the nutritive value of corn silage -  Luiz Ferraretto, University of Florida
Beef up your silage management for minimal shrink - Renato Schmidt, Lallemand Animal Nutrition
Garbage in, garbage out: impacts of silage mismanagement - Andy Skidmore, Lallemand Animal Nutrition
The value of silage in backgrounding rations - Jason Warner, Great Plains Livestock Consulting, Inc.
Considerations for using silage, earlage and HMC in finishing cattle - Allen Stateler, Nutrition Services Associates
Panel discussion on silage - Mark Blackford, Craig Cattle Co.; John Schroeder, Darr Feedyard; Warner; Stateler
Silage growing programs and the importance of protein - Andrea Watson, University of Nebraska—Lincoln
Characteristics of silage use in Iowa feedlots - Russ Euken, beef specialist; Loy
Inclusion, hybrid and kernel processing for finishing cattle feeding systems - Erickson
Accurately pricing corn silage - Terry Klopfenstein, and Henry Hilscher, University of Nebraska—Lincoln
The conference begins at 8:30 a.m., will adjourn by 4 p.m. and is free for those preregistered by Monday, June 11. Lunch is provided on-site. Otherwise, the fee is $30 per person for those not preregistered with that amount due on-site the day of the event. Preregister online here. Details on the live streaming will be available closer to the event. Appropriate CEUs from the American Registry of Professional Animal Scientists (ARPAS) have been requested.
"This is a great opportunity for us to bring current research information to the cattle industry in Nebraska, Iowa and beyond," Loy said. "Offering both an on-site location and an online streaming opportunity increases the reach of this information to a national and international audience."
For more information, contact Loy at 515-294-1058.
-30-
The Iowa Beef Center at Iowa State University was established in 1996 with the goal of supporting the growth and vitality of the state's beef cattle industry. It comprises faculty and staff from Iowa State University Extension and Outreach, College of Agriculture and Life Sciences and College of Veterinary Medicine, and works to develop and deliver the latest research-based information regarding the beef cattle industry. For more information about IBC, visit www.iowabeefcenter.org.
Contact:
Dan Loy, ISU feedlot specialist and IBC director, 515-294-1058, dloy@iastate.edu