Apps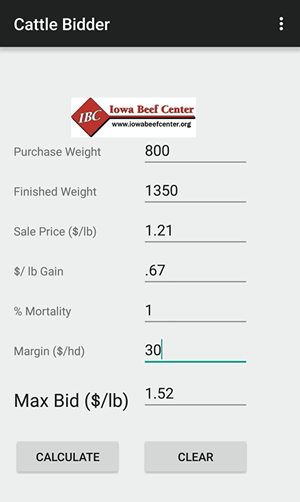 Cattle buyers can use this tool to determine the maximum bid when purchasing cattle by utilizing cost per pound gain, market price, market weight, desired margin and initial weight.
Use the Crush margin calculator to estimate the margin of return for cattle or hogs placed on feed at a user defined date. Chicago Mercantile Exchange futures data on feeder cattle, finished cattle and corn are used in the cattle portion and lean hog, corn and soybean meal are used for hogs to generate the margin. The margin provides an estimate of gross return that will need to cover the other costs and profit goals.
For additional information or questions contact Russ Euken ISU Extension Livestock Specialist reuken@iastate.edu or 641-923-2856, or Lee Schulz ISU Extension Livestock Economist lschulz@iastate.edu or 515-294-3356.
Please check back later for more apps.