Three-State Beef Conference Returns as In-Person Program in January 2022

note: pdf files open in new window/tab
12/3/2021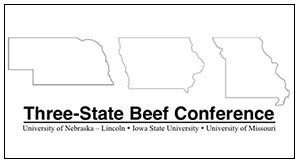 GREENFIELD Iowa — The Three-State Beef Conference returns as an in-person program with sessions scheduled for Jan. 11-13, 2022, with locations in Iowa, Missouri and Nebraska. The Iowa session will take place Tuesday, January 11 at the Warren Cultural Center Auditorium in Greenfield, with Missouri and Nebraska sessions scheduled for Jan. 12 and 13, respectively.
Iowa State University Extension beef specialist Chris Clark said the program offers area beef producers the opportunity to visit with a forum of specialists focusing on improving profitability through implementation of some next-level management strategies for beef cow-calf operations. Topics include beef bull development and longevity, marketing and risk management options and strategies, and matching cows to your environment.
"As before, we have used evaluation results and suggestions from previous attendees to develop the program," Clark said. "This year's topics and speakers will address selecting and developing both bulls and females that will remain in your herd for years to come as well as some strategies to help cow-calf producers implement risk management and marketing protection.
"I'm excited about our program this year. These are topics that should be of value to anyone in the cow-calf business."
Presentations include:
Beef bull development and longevity — Dr. Carl Dahlen, associate professor, animal sciences, North Dakota State University
Marketing and risk management options and strategies for beef cattle producers — Dr. Elliott Dennis, assistant professor, agricultural economics, University of Nebraska
Do your cows fit your environment? — Dr. Kacie McCarthy, beef cow-calf specialist, University of Nebraska
Registration will open at 5:30 p.m., with the program beginning at 6 p.m. The registration fee is $25 per person and includes the evening meal and copy of the proceedings. Preregistrations are appreciated by Jan. 7, to help with meal planning and reducing costs. The conference brochure has agenda information and a registration form.Preregistrations for the Iowa site at Greenfield can be directed to the Adair County Extension office by calling 641-743-8412 or emailing krohrig@iastate.edu.
Prior to the conference in Greenfield, a Beef Quality Assurance (BQA) meeting will be held beginning at 4 p.m. in the Green Room of the Warren Cultural Center. The BQA session is free, and producers are invited to attend either or both of the meetings. Registration for the BQA meeting can also be directed to the Adair County Extension Office by calling 641-743-8412 or emailing krohrig@iastate.edu.    
For more information, contact Clark at caclark@iastate.edu or ISU Extension and Outreach beef specialist Erika Lundy-Woolfolk at ellundy@iastate.edu.
-30-

The Iowa Beef Center at Iowa State University was established in 1996 with the goal of supporting the growth and vitality of the state's beef cattle industry. It comprises faculty and staff from Iowa State University Extension and Outreach, College of Agriculture and Life Sciences and College of Veterinary Medicine, and works to develop and deliver the latest research-based information regarding the beef cattle industry. For more information about IBC, visit www.iowabeefcenter.org.
Contacts:
Chris Clark, Iowa State University Extension beef specialist, 712-250-0070, caclark@iastate.edu
Erika Lundy-Woolfolk, Iowa State University Extension beef specialist, 641-745-5902, ellundy@iastate.edu