Webinars on Optimizing Value of Dairy Beef Cattle Set for March 8, 22

note: pdf files open in new window/tab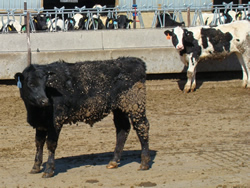 2/10/22
AMES, Iowa – Many dairy farms have adopted the practice of breeding a portion of their herd to beef bulls to produce calves for the beef production. This has allowed dairy farms to better manage replacement heifer inventories, and in some cases receive market premiums over straight bred baby bull calves. As this practice has become more common, some dairy farms are interested in determining the practicality and profitability of retaining their beef x dairy calves to market as feeder or fed cattle versus marketing as baby calves.
Iowa State University Extension dairy specialist Jennifer Bentley said the approach can help dairy farmers better utilize the potential of their herd.
"As dairy farmers fine-tune their heifer replacement inventories, a way to add value to animals being sold off the farm is to breed a portion of their herd to beef," she said. "As a result, best management practices have been hot topics with producers in helping to determine profitability and optimize the value of these efforts."
University of Wisconsin-Madison Extension will host a two-part webinar series in March focusing on practices that can help optimize the value of dairy-beef cross animals. Optimizing Value of Dairy Beef Cross Cattle from Birth to Harvest will be held on Tuesdays, March 8 and March 22, with one topic session from 11 a.m. to noon, and a second topic session from 12:30 to 1:30 p.m. both days. Each session will be a moderated panel format with opportunities for participants to submit questions to the panelists. There is no charge to participate in the webinar series, but registration is necessary. Register for both sessions here https://uwmadison.zoom.us/meeting/register/tJMsf-usrD8pGtHo3trM9iTv9r-PxvzY-0SB
On March 8, the first discussion will address selecting beef bulls to best compliment dairy cows to consistently produce cattle with desirable carcass and feedlot performance traits. The second discussion (which will also be translated in Spanish) will address how the quality of postpartum and early age calf care impact their health, growth, and performance for their entire lives. Presenters include Denise Schwab, Iowa State Extension beef specialist, and several UW-Madison Extension Educators. Wisconsin BQA certified participants who the calf care session can receive one Wisconsin BQA continuing education credit.
On March 22, the first discussion will address feeding and managing dairy beef cross cattle from 400 lb. to finish. The second discussion will present information on marketing options for dairy beef cross cattle. Presenters include Jerad Jeborak, Michigan State Feedlot Specialist; Dan Schaefer, UW-Madison Professor Emeritus Beef Nutrition; Brenda Boetel, Extension and UW-River Falls Livestock Economist; and Bill Halfman, UW-Madison Extension Agriculture Agent. Wisconsin BQA certified participants attending the feeding and management session can receive one Wisconsin BQA continuing education credit.
Bentley also reminds dairy-beef producers of the I-29 Moo University Dairy Beef Short Course scheduled for March 29 in Soux Falls, SD. This year's program, Surviving Today - Opportunities to Evaluate, features two Iowa State presenters: extension livestock economist Dr. Lee Schulz and animal science professor Dr. Dan Thomson. Cost is $35 for adults and $20 for college students. Preregistration is requested by March 21. See more info on the short course website.
-30-
The Iowa Beef Center at Iowa State University was established in 1996 with the goal of supporting the growth and vitality of the state's beef cattle industry. It comprises faculty and staff from Iowa State University Extension and Outreach, College of Agriculture and Life Sciences and College of Veterinary Medicine, and works to develop and deliver the latest research-based information regarding the beef cattle industry. For more information about IBC, visit www.iowabeefcenter.org.
Contacts:
Jennifer Bentley, Iowa State University extension dairy specialist, 563-382-2949. jbentley@iastate.edu
Denise Schwab, Iowa State University extension beef specialist, 319-472-4739, dschwab@iastate.edu