June 13 Appanoose County pasture walk to feature pasture management, cattle grazing topics
5/25/23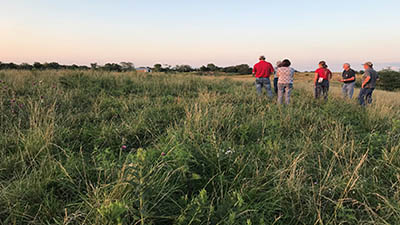 CENTERVILLE, Iowa — Iowa State University Extension and Outreach Appanoose County is hosting a pasture walk on June 13 beginning at 6 p.m. The event will take place southwest of Moulton, near 30151 269th Ave. A map and driving directions are included in the event flyer.
This event is for anyone interested in learning more about pasture management and cattle grazing.
A trio of ISU Extension specialists will provide information on various aspects of pasture management. Beef specialist Chris Clark will talk about rotational grazing, pasture condition scoring, and potentially some animal health topics.  Crops specialist Clarabell Probasco will discuss agronomic aspects of pasture management such as soil fertility and weed control, and ag engineer Kristina TeBockhorst will talk about pasture watering systems and managing high traffic areas. Jesse Replogle, host of the pasture walk, will provide a brief overview of the location's current rotational grazing pasture system.
This event is free and open to the public. To help with planning, please preregister by June 7 by calilng Lynn Firkins at the Appanoose County Extension Office at 641-856-3885. For more information, contact Probasco by phone at 641-208-5435 or by email caknapp@iastate.edu.
Note: there are no restrooms available onsite so please plan accordingly.
-30-
The Iowa Beef Center at Iowa State University was established in 1996 with the goal of supporting the growth and vitality of the state's beef cattle industry. It comprises faculty and staff from Iowa State University Extension and Outreach, College of Agriculture and Life Sciences and College of Veterinary Medicine, and works to develop and deliver the latest research-based information regarding the beef cattle industry. For more information about IBC, visit www.iowabeefcenter.org.
Contact:
Chris Clark, Iowa State University Extension beef specialist, 712-250-0070, caclark@iastate.edu