Armstrong Research Farm to host summer annuals forage field day
6/20/2022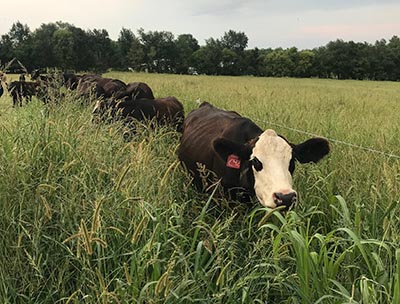 LEWIS, Iowa – Stressed pastures and high grain markets continue to limit forage productivity and land access for cattlemen. Many producers have turned toward integrating cover crops as an alternative to extend the grazing season, and some have even begun utilizing warm season annual forages to fill some voids during the summer slump.
Iowa State University Extension and Outreach and the Armstrong Memorial Research and Demonstration Farm will host a field day featuring ongoing forage research with summer annuals. The event will take place Tuesday evening, July 12, at the ISU Wallace Learning Center on the Research Farm near Lewis.
The field day will start with a classroom session featuring swath grazing of warm season annuals as a winter-feeding strategy. Head researcher Dr. Garland Dahlke of the Iowa Beef Center will discuss forage quality and utilization, and the challenges and successes of using pearl millet, forage sorghum and sorghum sudangrass for swath grazing in Iowa.
Attendees will have the opportunity to view summer annual test plots at the farm including German millet, pearl millet, sorghum sudangrass, sudangrass and teff. Warm season species selection, farm usage and application, forage nutrient value and anti-quality issues also are on the agenda.
Registration and a light meal begin at 5:30 p.m., and the program runs from 6 to 8 p.m. Other presenters are ISU field agronomist Aaron Sauegling and ISU extension beef specialist Erika Lundy-Woolfolk. See more details on the field day flyer.
The field day is free thanks to grants from the North Central Extension Risk Management Education Center and the Southern Iowa Forage and Livestock Committee. To ensure adequate meal count, please preregister by July 8 by calling the Cass County Extension Office at 712-243-1132. For more information, contact Lundy-Woolfolk at ellundy@iastate.edu.
-30-
The Iowa Beef Center at Iowa State University was established in 1996 with the goal of supporting the growth and vitality of the state's beef cattle industry. It comprises faculty and staff from Iowa State University Extension and Outreach, College of Agriculture and Life Sciences and College of Veterinary Medicine, and works to develop and deliver the latest research-based information regarding the beef cattle industry. For more information about IBC, visit www.iowabeefcenter.org.
Contact:
Erika Lundy-Woolfolk, ISU Extension and Outreach beef specialist, 641-745-5902, ellundy@iastate.edu