Beef Quality Assurance and BQA Transportation certification sessions set in Carroll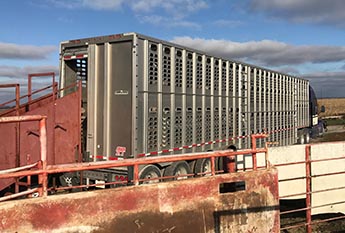 7/5/22
CARROLL Iowa — Producers and haulers who need to renew or obtain their certification in Beef Quality Assurance (BQA) or Beef Quality Assurance Transportation (BQAT) can preregister now for in-person trainings later this summer in Carroll. Offered by the Iowa Beef Center, Iowa State University Extension and Outreach and the Iowa Beef Industry Council, the sessions are set for August 10 and are provided at no cost.
ISU extension beef specialist Erika Lundy-Woolfolk will present both workshops. The BQA session will be held from 1 to 2:30 p.m. and the BQAT session from 2:30 to 4 p.m.
"Participants are welcome to attend either or both sessions depending on their needs," she said.
BQA certification in necessary for anyone who markets fed cattle to major packers, while BQAT certification is necessary for custom haulers or producers delivering cattle to certain packing plants.
"For cattlemen who market fed cattle and deliver their own cattle to the packing plant, both BQA and BQAT certifications may be necessary depending on the packer," Lundy-Woolfolk said.
The sessions will be held at the Carroll County ISU Extension Office in Carroll at 1205 W US HWY, Ste G. Lundy-Woolfolk said attendees are encouraged to preregister by calling the Carroll County extension office at 712-792-2364 or emailing juleeg@iastate.edu.
For those unable to attend a training, BQA and BQAT are available on-line at www.bqa.org.
See the details on the event flyer. For more information, contact Lundy-Woolfolk at 641-745-5902 or ellundy@iastate.edu.
-30-
The Iowa Beef Center at Iowa State University was established in 1996 with the goal of supporting the growth and vitality of the state's beef cattle industry. It comprises faculty and staff from Iowa State University Extension and Outreach, College of Agriculture and Life Sciences and College of Veterinary Medicine, and works to develop and deliver the latest research-based information regarding the beef cattle industry. For more information about IBC, visit www.iowabeefcenter.org.
Contact:
Erika Lundy-Woolfolk, ISU Extension and Outreach beef specialist, 641-745-5902, ellundy@iastate.edu