Boots in the Barn Series Begins in March in Monroe County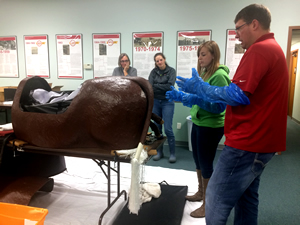 2/7/22
ALBIA, Iowa ― Iowa State University Extension and Outreach will offer a unique educational opportunity for cattlewomen this spring in southern Iowa. "Boots in the Barn" is a five-part meeting series that will be hosted by Monroe County Extension at the Monroe County Extension Office in Albia. The series is set for 5:30-8:30 p.m. on March 1, 15, 22, 29, and April 5.
Iowa State University Extension beef specialist Chris Clark said the program will include some interactive learning and hands-on activities.
"I hope to use somewhat of a 'flipped classroom' where participants receive materials to read and study at home, and the actual classroom time will be used for discussion and various interactive learning exercises," he said.
Topics will include animal health, nutrition, animal selection and managing the birthing process. The curriculum is flexible and will be adapted to meet the interests and needs of participants.
"I have some lessons in mind that we will almost certainly use, including some nutrition, pasture management, animal selection, and delivering a calf." Clark said. "Beyond that though, we have flexibility to tailor the program to the interests of the participants."    
The program is designed for females interested in cattle production, and mothers are encouraged to bring daughters to the program. 
"This could be a unique mother/daughter activity where two generations can learn together," Clark said. 
An evening meal will be served at each meeting and preregistration by Feb. 22 is required to assist organizers with meal planning. The registration fee is $25 per person and includes meals and resource manuals. Women interested in attending this event should contact the Monroe County Extension Office at 641-932-5612 or by emailing Amie Koffman at akoffman@iastate.edu. For additional information contact Clark at 712-250-0070 or by email at caclark@iastate.edu.   
-30-
The Iowa Beef Center at Iowa State University was established in 1996 with the goal of supporting the growth and vitality of the state's beef cattle industry. It comprises faculty and staff from Iowa State University Extension and Outreach, College of Agriculture and Life Sciences and College of Veterinary Medicine, and works to develop and deliver the latest research-based information regarding the beef cattle industry. For more information about IBC, visit www.iowabeefcenter.org.
Contact:
Chris Clark, Iowa State University Extension beef specialist, 712-250-0070, caclark@iastate.edu