Iowa Beef Center to offer BRaNDS workshops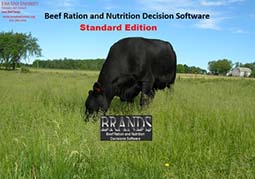 7/7/22
AMES, Iowa — The Beef Ration and Nutrition Decisions Software is designed to assist in the formulation of rations for beef cattle. With standard and professional versions, state-specific versions, and editions for beef cow, breeding bull and feedlot operations, BRaNDS users often have questions on information to use, reports that can be run, data to save and transfer, and more. That's why Iowa Beef Center at Iowa State University has scheduled two workshops in August.
IBC associate scientist Garland Dahlke and ISU extension beef specialist Chris Clark will present information and offer suggestions during these "Applied Ration Balancing, Tips, Techniques & Formulation using BRaNDS" sessions. There is no cost; however, you're asked to preregister by calling Dahlke at 515-294-9910 or emailing him at garland@iastate.edu.
"This is an applied ruminant nutrition program dealing with details and background of correct ration formulation, using BRaNDS with cattle examples to assist in accomplishing it," Dahlke said. "These concepts apply to sheep and goats, so the sessions aren't limited to cattle producers."
The workshops are set for Friday, August 12, and Thursday, August 18, from 1:30 to 3:30 p.m. at the Hansen Ag Student Learning Center in Ames. Afterwards, there will be time to deal with specific issues and troubleshooting for individual attendees. See the program flyer.
"Although we encourage people to bring their own computers so everything they learn will stay right on the computer to go home with them, we will have a set of ISU computers available for anyone to use," Dahlke said.
Clark said while the focus will be on the latest version of BRaNDS, people who bring their own computer with earlier versions are welcome to attend, as are those who don't yet have the software.
"If someone hasn't purchased the software, we can set them up on an ISU computer to show them what it can do," Clark said. "Overall, it's definitely a good way for those with or without BRaNDS to learn more about it and become more comfortable using it."
Learn more about BRaNDS on the IBC website. All of the BRaNDS versions and editions may be purchased at any time through the online ISU extension store, so people can buy and download the software during the workshop.

-30-
The Iowa Beef Center at Iowa State University was established in 1996 with the goal of supporting the growth and vitality of the state's beef cattle industry. It comprises faculty and staff from Iowa State University Extension and Outreach, College of Agriculture and Life Sciences and College of Veterinary Medicine, and works to develop and deliver the latest research-based information regarding the beef cattle industry. For more information about IBC, visit www.iowabeefcenter.org.
Contacts:
Garland Dahlke, Iowa Beef Center associate scientist, 515-294-9910, garland@iastate.edu
Chris Clark, Iowa State University Extension beef specialist, 712-250-0070, caclark@iastate.edu
Writer:
Sherry Hoyer, Iowa Beef Center, 515-294-4496, shoyer@iastate.edu