Big Things Planned for the 50th Anniversary of the Cornbelt Cow-Calf Conference

note: pdf files open in new window/tab
11/30/2021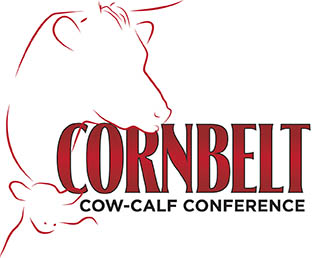 OTTUMWA, Iowa ― The premier educational event in Iowa for cow-calf producers returns! The 50th Anniversary of the Cornbelt Cow-Calf Conference has been set for Jan. 22, 2022, at the Bridge View Center in Ottumwa. Iowa State University (ISU) Extension and Outreach beef program specialist Patrick Wall said this year's conference will be a celebration, while offering the same educational focus on topics relevant to Iowa's beef industry.
"Despite all the challenges, the committee wanted to celebrate making it 50 years, and to thank all of those who have supported and attended the conference through the years," Wall said. "It's safe to say that America's beef producers are in unchartered waters with regards to the supply chain, but we'll still try to offer attendees some optimism through education."
The conference will again offer free admission and will be preceded by the KIIC Farm Show on Friday afternoon prior to the conference. The 2022 program targets a variety of topics designed to help producers of all ages and production goals. The keynote speaker will be Rob Sharkey, better known as "The Shark Farmer" on RFD-TV.
 
"The morning will open with a historical talk from Dr. Bob Hough covering the last 50 years of the beef cattle industry in the United States," Wall said. "Bryce Schuman will then take the stage to talk about genetic selection for feed efficiency and its impact on maternal function. With high grain prices, keeping cows functional in many environments is critical while the industry tries to cut feed costs."
Rob Sharkey will lead the audience into the lunch hour with an in-depth discussion of his path in agriculture, which goes from pig farmer to hunting outfitter to podcaster to TV host. His message will touch on entrepreneurship, ag advocacy, and generational transfer. The afternoon general session will address the supply chain.
"We'll have a panel discussion with seedstock producers, a veterinarian, a risk manager, and a large feedlot buyer. The discussion will be a real-world view of perspectives…without the packer in the room," Wall said.
Afternoon break-out sessions will have a grazing focus:
Denise Schwab, ISU extension beef specialist, "Using Summer Annuals in a Grazing Plan"
Producer Speaker: Jason Wells, Wells Organic Dairy, "Using Forages to Transition to Organic Production"
Garland Dahlke, Iowa Beef Center, "Winter Swath Grazing in Iowa"
Iowa Cattlemen's Association: Staff will address several topics important to their membership.
Doors will open for this year's conference and trade show at the Bridge View Center in Ottumwa promptly at 8 a.m. The official welcome is at 9 a.m., followed by three general sessions, then lunch and exhibit viewing. The afternoon general session begins at 1 p.m. with the supply chain panel; break-out sessions begin at 2:15 p.m. with two repeating time blocks with four choices. Again, admission is FREE, and includes a copy of the show guide and conference proceedings. No preregistration is necessary. Additional information will be available at www.cornbeltcowcalf.com.
-30-

The Iowa Beef Center at Iowa State University was established in 1996 with the goal of supporting the growth and vitality of the state's beef cattle industry. It comprises faculty and staff from Iowa State University Extension and Outreach, College of Agriculture and Life Sciences and College of Veterinary Medicine, and works to develop and deliver the latest research-based information regarding the beef cattle industry. For more information about IBC, visit www.iowabeefcenter.org.
Contact:
Patrick Wall, ISU Extension and Outreach beef specialist, 515-450-7665, patwall@iastate.edu