I-29 Moo University Dairy Beef Short Course Focuses on Opportunities to Evaluate

note: pdf files open in new window/tab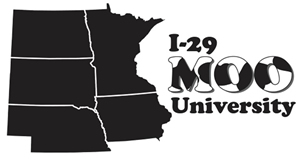 2/9/22
ORANGE CITY, Iowa – The I-29 Moo University Dairy Beef Short Course is scheduled for Tuesday, March 29 as part of the pre-educational events for the Central Plains Dairy Expo. It will be held in the Denny Sanford Premier Center, Sioux Falls, SD in rooms 8, 9, and 10, from 9:30 a.m. to 3 p.m.
The Dairy Beef Short Course, hosted by I-29 Moo University, is a collaboration of dairy specialists and beef specialists from South Dakota State University, University of Minnesota, Iowa State University, North Dakota State University and University of Nebraska Extension Services. Iowa State extension dairy specialist Fred Hall said the focus of this year's program is Surviving Today - Opportunities to Evaluate.
"The Dairy Beef Short Course is the longest running program focused on dairy beef," Hall said. "This short course has the reputation for presenting cutting-edge material from presenters leading the national discussion on dairy beef. Attendees should expect nothing less this year."
Topics and speakers will include:
Dr. Dan Thomson, Iowa State University, "Applying Lessons Learned from Cattle Feeding Across the U.S. to Dairy Beef Feeding"
Dr. Lee Schulz, Iowa State University, "Economic Considerations for the Dairy Beef Market"
Dr. Richard Zinn, University of California-Davis, "Metabolizable Protein and Amino Acid Nutrition of Calf-Fed Holstein Steers"
A producer panel discussion on Management from Maternity to Harvest will feature Adam Maassen of Iowa, John Moes of South Dakota, Greg Moes of South Dakota and Jeff Bullerman of Minnesota
Registration and networking begins at 9:30 a.m. with the program starting at 10 a.m. A complimentary lunch will be served from 12:15 to 1:15 p.m., and the program will wrap up by 3 p.m.
Registration Details
The registration fee of $35 per adult covers the short course, lunch and the proceedings. College students may register for $20. Preregistration is requested by March 21 and limited to 130 attendees on a first-come, first-serve basis.
Preregister online at https://go.iastate.edu/VPGDUD or register by mailing the registration fee to ISU Extension and Outreach Sioux County, ATTN: Fred Hall, at 400 Central Ave., NW, Suite 700, Orange City, IA 51041. Please include your contact information and any dietary restrictions when mailing in your registration fee. 
For more information, contact Hall at 712-737-4230, email fredhall@iastate.edu or visit https://i-29moou.com/
Attendees who plan to go to the Central Plains Dairy Expo Welcome Reception are encouraged to register for that event ahead of time also at https://www.centralplainsdairy.com/registration/.
The I-29 Moo University Collaboration was established as a multi-state learning community, connecting Extension dairy specialists and dairy producers from North and South Dakota, Minnesota, Iowa and Nebraska to share research, information and management practices through workshops, webinars, monthly e-newsletters and on-farm tours. For more information about the I-29 Moo University Collaboration and programs, visit www.i-29moou.com.
-30-
The Iowa Beef Center at Iowa State University was established in 1996 with the goal of supporting the growth and vitality of the state's beef cattle industry. It comprises faculty and staff from Iowa State University Extension and Outreach, College of Agriculture and Life Sciences and College of Veterinary Medicine, and works to develop and deliver the latest research-based information regarding the beef cattle industry. For more information about IBC, visit www.iowabeefcenter.org.
Contact:
Fred Hall, ISU extension dairy specialist, 712-737-4230, fredhall@iastate.edu
Beth Doran, ISU extension beef specialist, 712-737-4230, doranb@iastate.edu