Driftless Region Beef Conference to Feature Ron Gill

note: pdf files open in new window/tab
12/7/2021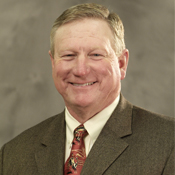 DUBUQUE, Iowa – The upcoming Driftless Region Beef Conference will showcase Dr. Ron Gill, professor and Extension livestock specialist for Texas A&M AgriLife Extension, and Associate Department Head, according to Denise Schwab, beef specialist with Iowa State University Extension and Outreach. The conference will be held Jan. 27-28, 2022, at the Grand River Conference Center in Dubuque.
"With the challenges of 2020 and 2021, this year's conference will focus on the future directions of the beef industry," Schwab said. "We are excited to have Dr. Ron Gill share his thoughts and insights into what is ahead for U.S. cattlemen. Dr. Gill has a wealth of knowledge and experience in the beef industry as well as extensive experience with Beef Quality Assurance and Stockmanship."
Another unique feature for this year's conference is the meat fabrication demonstration by ISU extension meat specialist and meat lab director Dr. Terry Houser. He will demonstrate different ways to fabricate the chuck roll and the top sirloin butt into new value-added steaks or more traditional retail products. Following his presentation, Dr. Bailey Harsh from the University of Illinois will discuss meat substitutes with attendees.
Other speakers include Matt Ludlow from Rush Creek Ranch in Wisconsin; Tammy Vaassen from Wisconsin Beef Council; Casey Allison of Iowa Beef Industry Council; Schwab and Dan Loy, Iowa State University; Bill Halfman and Mark Renz, University of Wisconsin; and Mary Drewnoski and Elliott Dennis, University of Nebraska—Lincoln. The evening bull pen session features adding value to beef products and a panel of producers will share their experiences and challenges with a wide variety of opportunities.
The early registration fee is $85 per person and must be received prior to midnight, Jan 14. The price increases to $115 after that date. More information on topics, speakers and lodging is available at www.aep.iastate.edu/beef. Registration with links for online and mail forms are available on the conference website.
The Driftless Region Beef Conference is sponsored by ISU Extension and Outreach, University of Illinois Extension and University of Wisconsin Extension. For more information or to receive a brochure, contact Schwab at 319-472-4739.
-30-
The Iowa Beef Center at Iowa State University was established in 1996 with the goal of supporting the growth and vitality of the state's beef cattle industry. It comprises faculty and staff from Iowa State University Extension and Outreach, College of Agriculture and Life Sciences and College of Veterinary Medicine, and works to develop and deliver the latest research-based information regarding the beef cattle industry. For more information about IBC, visit www.iowabeefcenter.org.
Contact:
Denise Schwab, Iowa State University Extension beef specialist, 319-472-4739, dschwab@iastate.edu