Timely cow-calf topics slated for Driftless Region Beef Conference, Jan. 26-27 in Dubuque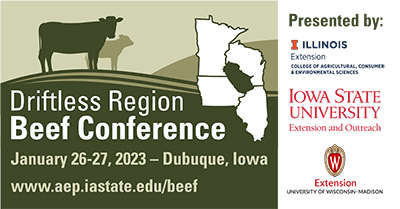 1/2/23
DUBUQUE, Iowa  — The rolling hills of the driftless region of Illinois, Iowa and Wisconsin lend themselves to pastures and cows. The university extension services in these three states are teaming together to offer the Driftless Region Beef Conference to educate beef producers. The eleventh annual event will be held Jan. 26-27 at the Grand River Convention Center in Dubuque.
The cattle business has been challenging in the last year with drought in some areas, excess rain in others, increasing hay prices and skyrocketing grain prices. Cow sales are up and heifers retained for the breeding herd are down. Cow herd input costs continue to rise, increasing the volatility of the cattle industry. The 2023 conference will focus on practices to survive the market volatility into the future.
A great line up of cow-calf specific topics is slated for Friday morning, Jan. 27. Travis Meteer, University of Illinois, will lead off with an update on drylot cow-calf production system. Denise Schwab, Iowa State, will discuss using annual forages to fill grazing gaps. Colby Redifer, University of Missouri, will present information on nutrient restrictions in gestation, and Jordan Thomas, also with University of Missouri, will discuss the synchronization programs including the new 7 & 7 program. The conference will wrap up with a market outlook from Derrell Peel of Oklahoma State University.
The conference also continues both the ever popular "Bull Pen" panel discussion on Thursday evening after dinner, and a Friday morning breakfast presentation featuring an update on check-off funded research adding value for producers in the driftless region.
The early registration fee of $85 per person must be received prior to midnight, Jan. 13. After that date, it increases to $115. More information on topics, speakers and lodging is available on the conference website.
-30-
The Iowa Beef Center at Iowa State University was established in 1996 with the goal of supporting the growth and vitality of the state's beef cattle industry. It comprises faculty and staff from Iowa State University Extension and Outreach, College of Agriculture and Life Sciences and College of Veterinary Medicine, and works to develop and deliver the latest research-based information regarding the beef cattle industry. For more information about IBC, visit www.iowabeefcenter.org.
Contact:
Denise Schwab, Iowa State University Extension beef specialist, 319-472-4739, dschwab@iastate.edu