Driftless Region Beef Conference features feedlot-specific topics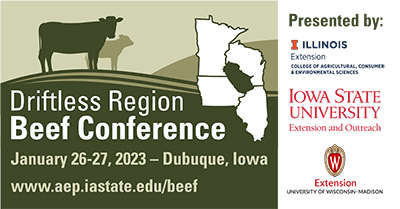 1/10/23
DUBUQUE, Iowa  — The Driftless Region Beef Conference, set annually in Dubuque, is known for providing current information for cow-calf production in the tri-state area of Illinois, Iowa and Wisconsin. However, it's also home to a significant amount of cattle finishing. Iowa State University extension beef specialist Denise Schwab is part of the planning group and said one of the biggest concerns of cattle feeders in 2023 is increased cost of feeds due to high commodity prices and dry forage production conditions.
"Fed cattle prices are currently high, but so are input costs," she said. "This year's conference will focus on practices to survive market volatility into the future."
The tri-state university extension services in Illinois, Iowa and Wisconsin team together to offer the Driftless Region Beef Conference. The eleventh annual event will be held Jan. 26-27, at the Grand River Convention Center in Dubuque.
A timely lineup of feedlot-specific topics are slated for Friday morning, Jan. 27.  Dr. Zachary Smith, South Dakota State University, will lead off with discussion on various forms of corn as cattle feed. Dr. Josh McCann, University of Illinois, will discuss confinement mobility and mat studies. Alyssa Seitz and Bill Halfman, University of Wisconsin-Madison, will present information on beef x dairy cross animal performance and using biometrics as a prediction tool. Dr. Dörte Döpfer, University of Wisconsin Madison College of Veterinary Medicine, will discuss hairy heel wart management in the feedlot. The conference will wrap up with a market outlook from Derrell Peel of Oklahoma State University.
The conference's ever popular "Bull Pen" discussion after dinner on Thursday evening, Jan. 26, will feature a panel of veterinarians; and a Friday morning breakfast presentation features an update on check-off funded research adding value for producers in the driftless region.
The early registration fee of $85 per person must be received prior to midnight, Jan. 13. After that date, it increases to $115. More information on topics, speakers and lodging is available on the conference website.
-30-
The Iowa Beef Center at Iowa State University was established in 1996 with the goal of supporting the growth and vitality of the state's beef cattle industry. It comprises faculty and staff from Iowa State University Extension and Outreach, College of Agriculture and Life Sciences and College of Veterinary Medicine, and works to develop and deliver the latest research-based information regarding the beef cattle industry. For more information about IBC, visit www.iowabeefcenter.org.
Contact:
Denise Schwab, Iowa State University Extension beef specialist, 319-472-4739, dschwab@iastate.edu