Limited space available in 2022 Feedlot Short Course
7/18/2022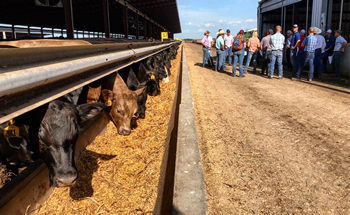 AMES, Iowa – If you're thinking about attending this year's Feedlot Short Course you'll want to act soon. A few spots remain and Iowa State University extension beef specialist Erika Lundy-Woolfolk said participants in the August 2-4 event will be the first to experience new topics including a beef carcass fabrication demonstration in the ISU meat lab.
"Also new this year are an implant demonstration and a session on chute side management tips that focus on foot health," she said. "We purposefully limit attendance to 30 people so we can provide optimal hands-on opportunities and small group learning."
Content-specific portions of the short course will be held at the Hansen Ag Student Learning Center in Ames, the Iowa State Beef Nutrition Farm near Ames, the ISU Meat Lab on the ISU campus, and Couser Cattle Company in Nevada, Iowa.
The $350 per person registration fee covers transportation to and from classroom facilities and local feedlots, handouts and meals. Participants are responsible for making their own lodging arrangements, if needed.
Visit www.aep.iastate.edu/feedlot for online registration and additional course details. For questions on the short course content contact Lundy at ellundy@iastate.edu. For assistance with registration, receipts, cancellation or questions on the status of your registration contact ANR Program Services at 515-294-6429 or anr@iastate.edu.
-30-

The Iowa Beef Center at Iowa State University was established in 1996 with the goal of supporting the growth and vitality of the state's beef cattle industry. It comprises faculty and staff from Iowa State University Extension and Outreach, College of Agriculture and Life Sciences and College of Veterinary Medicine, and works to develop and deliver the latest research-based information regarding the beef cattle industry. For more information about IBC, visit www.iowabeefcenter.org.
Contacts:
Erika Lundy-Woolfolk, ISU Extension and Outreach beef specialist, 641-745-5902, ellundy@iastate.edu
Dan Loy, IBC director and Iowa State extension beef specialist, 515-294-1058, dloy@iastate.edu
Writer:
Sherry Hoyer, Iowa Beef Center, 515-294-4496, shoyer@iastate.edu