Hairy Heel Wart and Cattle Lameness Symposium June 28 in Sioux Center
6/9/2022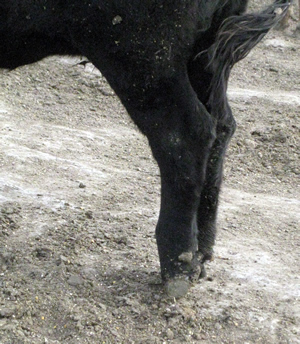 ORANGE CITY, Iowa - Hairy Heel Wart (HHW) is becoming a significant problem for feedlot producers. It is not only difficult to diagnose but also hard to treat, according to Beth Doran, beef specialist with Iowa State University Extension and Outreach.
To address the issue, ISU Extension and Outreach, the Iowa Beef Industry Council and the Iowa Cattlemen's Association are cosponsoring the "Hairy Heel Wart and Lameness Symposium - Iowa Checkoff Talks" on Tuesday, June 28.The program will be offered virtually and in-person from 11:30 a.m. to 3:30 p.m. at the Terrace View Event Center in Sioux Center, and those attending at the Terrace View Event Center are invited for lunch beginning at 11 a.m. There is no cost to attend thanks to sponsor support.
"Hairy Heel Wart can result in a lot of losses for producers," Doran said. "Production losses include cost of treatment and reduced animal performance."
Speakers at the event are nationally known beef cattle experts who have experience with HHW (also known as digital dermatitis) and cattle lameness. 
Dr. Terry Engelken, DVM at ISU, leads off with his Checkoff-funded research exploring the prevalence of HHW in Iowa feedlots. He said that while common symptoms of HHW include lameness and an unpleasant hoof odor, not all animals exhibit lameness.
Dr. Shane Terrell, DVM at Gothenburg, Nebraska, will share his experiences in diagnosing HHW and other lameness issues in Nebraska feedlots. Because the exact organisms responsible for HHW are unknown, Terrell said, development of a vaccine has been complicated. Consequently, producers have little recourse other than prevention and treatment.
Dwight Kickhafer, Zinpro representative, will discuss what management practices and treatment procedures are currently used to control HHW.
The symposium will wrap up with an open discussion of future needs moderated by Dr. Dan Thomson, DVM with ISU's Department of Animal Science. Attendees are encouraged to bring their list of questions and research about the topic.
The symposium is free, but registration is required whether attending virtually or in-person and may be made one of three ways through the Iowa Beef Industry Council: online at https://bit.ly/3MlrXy6; by phone, 515-296-2305; or via email, beef@iabeef.org.
For more information, contact Doran at 712-737-4230 or
doranb@iastate.edu
.
-30-

The Iowa Beef Center at Iowa State University was established in 1996 with the goal of supporting the growth and vitality of the state's beef cattle industry. It comprises faculty and staff from Iowa State University Extension and Outreach, College of Agriculture and Life Sciences and College of Veterinary Medicine, and works to develop and deliver the latest research-based information regarding the beef cattle industry. For more information about IBC, visit www.iowabeefcenter.org.
Contact:
Beth Doran, ISU Extension and Outreach beef specialist, 712-737-4230, doranb@iastate.edu