Iowa Forage and Grassland Council Conference Returns as In-person Event
02/25/22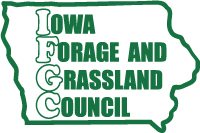 DES MOINES, Iowa – Organizers of the annual Iowa Forage and Grassland Council conference have scheduled a full day of information as it returns to an in-person offering in 2022. Set for March 30, this year's event will take place at the Iowa State University McNay Research and Demonstration Farm near Chariton.
Registration begins at 9:30 a.m. with the morning speakers at 10 a.m. Lunch at 12:15 p.m. includes the IFGC annual meeting, and is followed by a speaker and a producer panel. At 2:45 there's a Q&A session for all speakers, and from 3 to 4 p.m., optional plot tours are available for all attendees.
Conference topics and speakers
Advancements in Hay equipment – Jeremy Erdmann, John Deere.
Opportunities to increase days of grazing for small and mid-sized cow outfits – Eric Mousel, University of Minnesota.
Making cover crops work in the upper corn belt – Cody Nelson, agronomist.
Carbon programs…what's available to producers – Chad Hart, Iowa State University.
Utilizing cover crops on their farms – Producer Panel: Allen Zellmer, producer from Atlantic, and Logan Wallace, farm manager, McNay Research Farm.
Members who have not yet paid dues can do that during the online registration process.
See the IFGC conference website for a map to the farm, links to the schedule and online registration form.
For more information, contact Iowa State University extension beef specialist Patrick Wall by email or phone 515-450-7665.
-30-
The Iowa Beef Center at Iowa State University was established in 1996 with the goal of supporting the growth and vitality of the state's beef cattle industry. It comprises faculty and staff from Iowa State University Extension and Outreach, College of Agriculture and Life Sciences and College of Veterinary Medicine, and works to develop and deliver the latest research-based information regarding the beef cattle industry. For more information about IBC, visit www.iowabeefcenter.org.
Contact:
Patrick Wall, ISU Extension and Outreach beef specialist, 515-450-7665, patwall@iastate.edu
Writer:
Sherry Hoyer, Iowa Beef Center, 515-294-4496, shoyer@iastate.edu