Iowa Forage and Grassland Council Conference Returns to Ames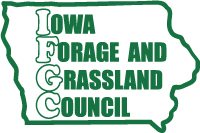 1/30/23
AMES, Iowa – The  Iowa Forage and Grassland Council annual conference returns to Ames in 2023 with a full day of information. Set for Feb. 28, the event will be held at Reiman Gardens, 1407 University Blvd., just to the southwest of Jack Trice Stadium.
Registration begins at 9:30 a.m. with a welcome and introductions at 10 a.m. Two presentations are on tap for the morning session, and lunch at noon is followed by the IFGC annual meeting. There are two afternoon sessions beginning at 1:15 p.m. and closing remarks at 3:15 p.m. The program concludes at 3:30 p.m.
Conference topics and speakers
Swath Grazing – A Winter Feeding Strategy, Dr. Garland Dahlke, Research Scientist with Iowa Beef Center, Iowa State University
The Compound Effects of Livestock on Soil Health, Kayla Creek, Livestock Specialist with Iowa NRCS Stacy Prassas, Grassland Specialist with Iowa NRCS Hillary Olson, State Soil Health Specialist with Iowa NRCS
Climate Challenges for Agriculture over the Next Three Decades, Dr. Gene Takle, Emeritus Distinguished Professor in Agronomy, Iowa State University
Management of New Weed Threats in Iowa Forages, Dr. Bob Hartzler, Retired Extension Weed Specialist and Emeritus Professor of Agronomy, Iowa State University
The conference is open to the public for $45. IFGC members pay $30 and those who have not yet paid dues can do that during the online registration process. All attendees will be able to explore the exhibits that are open at Reiman Gardens, including the popular Butterfly Wing, during the day.
See the agenda, registration form and map to Reiman Gardens on the conference website.
-30-
The Iowa Beef Center at Iowa State University was established in 1996 with the goal of supporting the growth and vitality of the state's beef cattle industry. It comprises faculty and staff from Iowa State University Extension and Outreach, College of Agriculture and Life Sciences and College of Veterinary Medicine, and works to develop and deliver the latest research-based information regarding the beef cattle industry. For more information about IBC, visit www.iowabeefcenter.org.
Contact:
Erika Lundy-Woolfolk, ISU Extension and Outreach beef specialist, 641-745-5902, ellundy@iastate.edu
Writer:
Sherry Hoyer, Iowa Beef Center, 515-294-4496,
shoyer@iastate.edu