Lucas County pasture walk to feature grazing systems, pasture management information

note: pdf files open in new window/tab
5/24/22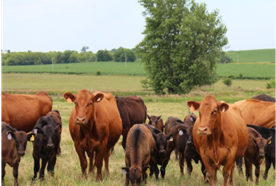 CHARITON, Iowa – It's time for a pasture walk in Lucas County and Andy Offenburger's farm is the place. The event is set for Tuesday, June 21, beginning at 6 p.m., on the farm northeast of Chariton. Iowa State University extension beef specialist Chris Clark said the program will include information from ISU extension beef, agronomy and ag engineering specialists on a variety of topics.
"I will talk about rotational grazing and share some health-related info for animals on pasture," he said. "Extension agronomist Clarabell Probasco will talk about weed control, and help with species identification and fertility, and area ag engineer Kristina TeBockhorst will talk about pasture watering systems and management of heavy use areas."
There's no cost to attend, although preregistration is requested by June 20. Call the Lucas County Extension Office at 641-774-2016.
Directions to the farm, located near 26132 530th St., Chariton: Approximately 7 miles north of Chariton on Highway 14, turn east on highway 253 and go through Williamson. Continue past the railroad tracks on gravel for approximately 0.75 mile and head for the red barn on the north side of the road. Someone will be there to provide parking directions.
Note: there are no restroom facilities at the farm so please plan accordingly.
For more information about this pasture walk, contact Clark by email or call 712-250-0070.
-30-
The Iowa Beef Center at Iowa State University was established in 1996 with the goal of supporting the growth and vitality of the state's beef cattle industry. It comprises faculty and staff from Iowa State University Extension and Outreach, College of Agriculture and Life Sciences and College of Veterinary Medicine, and works to develop and deliver the latest research-based information regarding the beef cattle industry. For more information about IBC, visit www.iowabeefcenter.org.
Contact:
Chris Clark, DVM, Iowa State University Extension beef specialist, 712-250-0070, caclark@iastate.edu