Try the Madigan Squeeze
3/16/23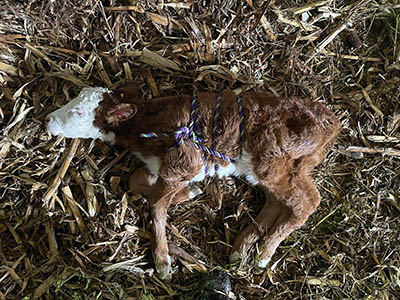 AMES, Iowa — It's peak calving season for many producers across the Midwest which may mean long exhausting and occasionally frustrating hours of trying to save every calf. Iowa State University extension beef specialist Patrick Wall said a simple technique might help some newborns that struggle to nurse or appear to have little will to live.
"The "Madigan Squeeze" technique was first developed in horses for use in what's often called, 'dummy foal syndrome,'" he said. "This method also was found to be effective in cattle, often referred to as "weak calf syndrome."
The logic behind the method is to reset the natural function of the calf's brain at birth by mirroring the pressure felt during the birthing process. To implement the Madigan Squeeze follow these steps in order:
Wrap a soft rope in 3-4 concentric loops around the calf's chest and rib cage. A rope halter works great for this.
Gently pull and tighten the rope to create pressure around the ribs. The calf should lie down and enter a relaxed, sleep-like state with slowed breathing.
Maintain this position for 20-30 minutes.
Remove the rope and assist the calf in standing.
How and why the technique is effective is not totally understood, but it seems to be most effective when there are sources of trauma or deficiency at birth, such as dystocia, leptospirosis, selenium, hypothermia, etc. The Madigan Squeeze can be tried more than once on the same calf, and there's no harm to the calf even if the treatment is unsuccessful. Even better, there are no needles, drugs, esophageal tubes or hand-nursing a cow involved. See more information regarding the Madigan Squeeze.
-30-

The Iowa Beef Center at Iowa State University was established in 1996 with the goal of supporting the growth and vitality of the state's beef cattle industry. It comprises faculty and staff from Iowa State University Extension and Outreach, College of Agriculture and Life Sciences and College of Veterinary Medicine, and works to develop and deliver the latest research-based information regarding the beef cattle industry. For more information about IBC, visit www.iowabeefcenter.org.
Contact:
Patrick Wall, ISU Extension and Outreach beef specialist, 641-842-2014, patwall@iastate.edu