Pasture weed control featured in Sept. 21 northern Iowa field day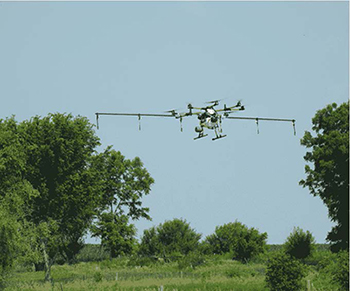 Update: This is a new location with a slightly different agenda from the original release dated 8/22/23.
8/25/23
GARNER, Iowa — Drones have been part of agriculture's tool box for years, especially in increasing efficiency and effectiveness for crop acres. A north Iowa field day will focus on how one farmer uses drone technology for pinpoint weed control in pasture land not easily accessible by other methods.
The pasture management field day is set for Sept. 21 at Lynn Kluver's pasture southeast of Crystal Lake. Field day organizer Iowa State University Extension and Outreach livestock specialist Russ Euken said a drone demonstration will show attendees how a drone can be used for weed control in areas that are not easily accessible for ground equipment or larger aircraft.
"Gentry Sorenson ISU extension field agronomist will discuss general pasture weed control methods, and Kluver and drone operator Adam Stenberg will discuss their experience using drone applied herbicide for weed control in the pasture," Euken said.
The field day agenda also includes basic grazing management along with tips on fall pasture care, forage and feed management for fall and winter, and resources available. T.J. Herrick, wildlife biologist with Iowa Department of Natural Resources, and Kluver will lead a discussion of opportunities to graze wildlife management areas.
The field day begins at 1 p.m. on Sept. 21 at the pasture located southeast of Crystal Lake. The address is 1115 310th St also Co Hwy B16 Britt. There's no cost to attend and no preregistration is necessary. See the event flyer.
For more information contact Euken at Hancock County Extension by phone at 641-923-2856 or email
reuken@iastate.edu
.
-30-
The Iowa Beef Center at Iowa State University was established in 1996 with the goal of supporting the growth and vitality of the state's beef cattle industry. It comprises faculty and staff from Iowa State University Extension and Outreach, College of Agriculture and Life Sciences and College of Veterinary Medicine, and works to develop and deliver the latest research-based information regarding the beef cattle industry. For more information about IBC, visit www.iowabeefcenter.org.
Contact:
Russ Euken, ISU Extension and Outreach ivestock specialist, 641-923-2856, reuken@iastate.edu