Three-State Beef Conference returns in early January 2023
12/6/22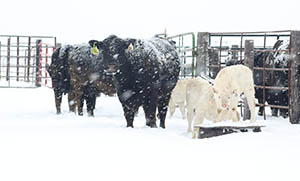 GREENFIELD Iowa — The Three-State Beef Conference is scheduled for Jan. 10-12, 2023, with locations in Missouri, Iowa and Nebraska. The Iowa session will take place Wednesday, Jan. 11, at the Warren Cultural Center Auditorium in Greenfield, with Missouri and Nebraska sessions scheduled for Jan. 10 and 12 respectively. Iowa State University extension beef specialist Chris Clark said this year's theme is "Measure to manage: exploring management strategies to cut costs, increase performance and capture value" and will offer tips and reminders for producers.
"The topics are focused on helping cattlemen explore some management areas that they might not typically think of," he said. "For example, the first topic on this year's program is geared toward tips for backgrounding calves. With high feed prices, this topic becomes important and timely to help producers – especially the small cow-calf producers in the three-state area – capitalize on the opportunity to add value to their calf crop."
Another topic on this year's program is looking at the cow herd's mineral and vitamin nutrition, according to Erika Lundy-Woolfolk, ISU extension beef specialist.
"We also have a session on water quality and helping producers understand when and what to test for," she said. "We think these topics can be beneficial to local cattlemen since we've been faced with several consecutive years of drought conditions."
Presentation titles, speakers and their affiliations are:
Tips for adding value to your calves through backgrounding — Dr. Dan Loy, extension beef feedlot specialist, Iowa State University.
Livestock water challenges during drought — Dr. Miranda Meehan, livestock environmental stewardship specialist, North Dakota State University.
Meeting the mineral needs of your herd without breaking the bank —Dr. Mary Drewnoski, beef systems specialist, University of Nebraska.
Registration will open each night at 5:30 p.m., with the program beginning at 6 p.m. The registration fee is $25 per person and includes the evening meal and copy of the proceedings. Preregistrations are requested by Friday, Jan. 6, to help with meal planning and reducing costs. The conference brochure has agenda information and a registration form. Preregistrations for the Iowa site at Greenfield can be directed to the Adair County Extension office by calling 641-743-8412 or emailing tlraasch@iastate.edu.
For more information, contact Clark at caclark@iastate.edu or Erika Lundy-Woolfolk at ellundy@iastate.edu.
-30-

The Iowa Beef Center at Iowa State University was established in 1996 with the goal of supporting the growth and vitality of the state's beef cattle industry. It comprises faculty and staff from Iowa State University Extension and Outreach, College of Agriculture and Life Sciences and College of Veterinary Medicine, and works to develop and deliver the latest research-based information regarding the beef cattle industry. For more information about IBC, visit www.iowabeefcenter.org.
Contacts:
Chris Clark, Iowa State University extension beef specialist, 712-250-0070, caclark@iastate.edu
Erika Lundy-Woolfolk, Iowa State University extension beef specialist, 641-745-5902, ellundy@iastate.edu