USDA updates livestock disaster payment rate to assist with heat-related losses
8/29/2023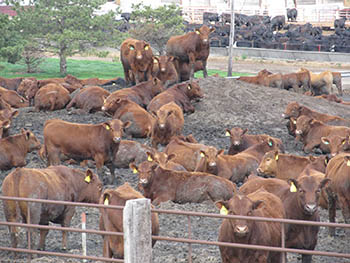 ORANGE CITY, Iowa – Some financial relief is in sight for cattle producers following recent extreme weather conditions. USDA's Farm Service Agency announced it has updated its Livestock Indemnity Program payment rate to support livestock producers in the Midwest who have lost cattle to the high heat and humidity experienced this summer.
LIP provides benefits to livestock owners and some contract growers for livestock deaths exceeding normal mortality from specified conditions, including eligible adverse weather events such as the recent heat domes. Indemnity payments are made at a rate of 75% of the prior year's average fair market value of the livestock.
Beth Doran, Iowa State University extension beef specialist in northwest Iowa, said both weight and color contribute to heat stress in the animals.
"Market weights have increased the past several years, with finished weights for market steers now hovering around 1500 pounds," she said. "And color also makes a difference. The darker the hide the greater the heat stress for the animal."
To help indemnify ranchers to reflect a trend toward these higher weights, the 2023 LIP payment rate for beef calves over 800 pounds will increase from $1244 per head to $1618, an increase of $374. Producers who have already received LIP payments for 2023 losses will receive an additional payment, if applicable, commensurate with this updated rate.
Recent heat indexes across Iowa the past week have been over 100 degrees Fahrenheit which is well above the comfort zone of 70 degrees for cattle. Temperatures over 90 degrees also are forecast for this weekend. Consequently, Doran said, more counties may quality for the LIP program.
Producers who lost animals due to recent high temperatures are encouraged to contact their Local Farm Service Agency (FSA) to see if LIP has been approved for the county and if their loss qualifies for reimbursement," said Beth Doran, beef specialist for Iowa State University and Outreach.
The livestock owner must provide evidence acceptable to FSA that an eligible loss occurred and was directly caused by extreme heat. Notice of this loss must be filed within 30 days of when the loss of livestock was first apparent to the producer.
For details on eligibility and the documentation process, producers should check with their county FSA office immediately.
-30-
The Iowa Beef Center at Iowa State University was established in 1996 with the goal of supporting the growth and vitality of the state's beef cattle industry. It comprises faculty and staff from Iowa State University Extension and Outreach, College of Agriculture and Life Sciences and College of Veterinary Medicine, and works to develop and deliver the latest research-based information regarding the beef cattle industry. For more information about IBC, visit www.iowabeefcenter.org.
Contact:
Beth Doran, ISU extension beef specialist, 712-737-4230, doranb@iastate.edu